Audi, BMW, Honda, Toyota, VolksWagen, VW – all Import Auto Repair, Parts – Collision Service Center & Complete Body Shop for Louisville, KY Here at VolksDoktor of Louisville, KY, we take pride in the quality work we provide at our 
Audi, BMW, Honda, Toyota, VolksWagen, 
VW service and auto repair
 center it is our goal to charge a competitive rate for your repair and maintenance work. We know that a correct an efficient diagnosis is important the first time, so we take great care when looking at your vehicle.  Our certified mechanics are here to get you back on the road quickly and without costing you more than you should ever pay!
Whatever your service need is – whether its a tune-up, alternator replacement, brake job, transmission, alignment, steering, diesel engine repair & service, engine noise or just some good-ole regular maintenance – VolksDoktor of Louisville, Kentucky all import service center can do it all:
Certified Mechanics / Audi Service / Honda Repairs / Toyota Service / VolksWagen Repairs / 
VW service / BMW Repairs & Service / auto repair
 center / collision service center & body shop / car accident repairs / car auto insurance approved / Diesel Engine Repair &  Service
Contact our auto repair & service department by phone, or stop in to make an appointment for your next Audi, Honda, Toyota, VolksWagen,VW repair or service. We are conveniently located on Lexington Road near Spring Street and want to keep your car running strong and safe.
What Happens After I Schedule an Appointment?
Please use our online form  to schedule your next service appointment:
1387 Lexington Road,  Louisville, KY 40206  (502) 584-3511
We are standing by to answer your questions and get you in the door as quickly as possible.
Upon submitting your information we will:
Respond to you promptly via your preferred contact method.
Ask any additional questions required to service your vehicle.
Confirm your appointment.
See our Google Locator Map and Reviews 
HOURS
Monday:  8:am – 5:30pm
Tuesday:  8:am – 5:30pm
Wednesday:  8:am – 5:30pm
Thursday: 8:am – 5:30pm
Friday:  8:am – 5:30pm
Saturday & Sunday:  Call us 24 hours a day for towing or emergency service  (502) 807-6050
TOP 10+ REASONS TO CALL VOLKSDOKTOR OF LOUISVILLE, KENTUCKY, KY
Certified Mechanics /
Professional & Complete Body Shop
Audi Service /
Honda Repairs /
Toyota Service /
VolksWagen Repairs /
VW service / 
auto repair center /
collision service center /
car accident repairs /
car auto insurance approved
 auto body repairs & painting,
import body work,
auto body work,
car body repairs,
vw painting,
Vw body repairs,
Vw auto body repairs,
auto body repairs,
auto car crash repairs,
Honda body work,
Honda body repairs,
Honda paint work,
Honda auto repair Service & Repairs Louisville KY,
BMW Service & Repairs Louisville KY,
Toyota Service & Repairs Louisville, KY,
Nissan Service & Repairs Louisville, KY
Diesel Engine Repair &  Service
Ford, Ram in heavy-duty towing spat
Every pickup truck commercial has the brand trying to convince us that its model is the biggest, brawniest vehicle on the block. But Ford and Ram appear ready to really throw down the gauntlet and scrap over the towing figures for their heavy-duty models, and it could potentially end up in court.
The issue revolves around what it means to be best in class. Ford claims that its 2015 F-450 (pictured above) has a maxtow rating of 31,200 pounds, compared to 30,000 pounds for the Ram 3500 (right). However, both companies market these heavy haulers as having the top towing in their class. According to Automotive News, Ford is threatening legal action if Ram doesn't back down.
The situation isn't as simple as just comparing the numbers, though. First, the two companies calculate their towing capacities differently. Ram adheres to the SAE J2807 rating, while Ford uses its own internal system. Although, as the company introduces new models, they are certified using the SAE standard. "When an all-new F-Series Super Duty is introduced, it also will use SAE J2807," said Ford to Autoblog in an emailed statement.
The second issue hinges on whether the F-450 and Ram 3500 are even in the same class at all. The "best-in-class" boast hinges on both trucks belonging to the Department of Transportation's Class 3 rules, stipulating that above a gross vehicle weight rating of 14,000 pounds, a model moves into Class 4. Ford claims that the F-450 has a GVWR of exactly that amount. However, according to Automotive News, the company removes the spare tire, tire jack and center console to reach that number.
Ford is sticking to its guns, though. "The 2015 F-450 pickup is a Class 3 (10,001 lbs. – 14,000 lbs. GVWR) dual rear-wheel, chassis-certified pickup truck," said the company in a statement emailed to Autoblog.
Although, Ram isn't changing course either. "Our best-in-class claim of 30,000 pounds of towing capacity for the 2014 Ram 3500 stands firm in the 350/3500 segment. Additionally, unlike our competitors, our new 2015 Ram 3500 will hold the title and weight capacity while adhering to the SAE J2807 towing test criteria," said Ram in a statement emailed to Autoblog.
2015 Ford F-150
Weighs Less Than 5,000 Pounds, 2.7 V6
Makes 325 HP
2015 FORD F-150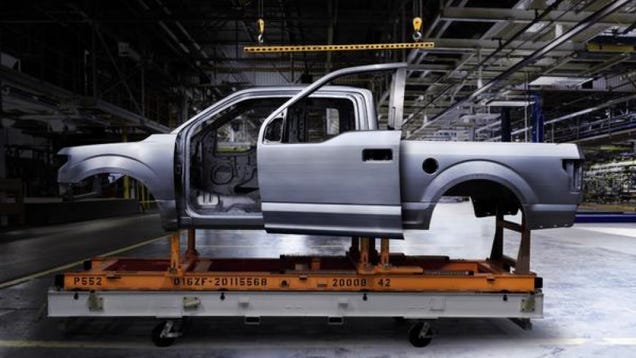 EXPAND
The 2015 Ford F-150′s little 2.7 EcoBoost V6 will be able to tow 8,500 pounds with 325 horsepower and 375 lb-ft of torque. Official curb weight a 2015 F-150 SuperCrew Lariat, one of the larger models, is a slim 4,942 lbs. The current 3.7 base V6 is dropped for a 3.5, but the 3.5 EcoBoost and V8 from 2014 will remain.

2015 Ford F-150: This Is It
The 2015 Ford F-150 has been revealed. The weight savings are massive, 2.7 liter EcoBoost engine is …Read more
While specifics on the smaller F-150s hasn't been stated officiall, Ford's Communications Manager Mike Levine tells us that a 2WD SuperCrew (full four-door) 2WD truck with the 2.7 EcoBoost engine is more like 4,500 pounds. That makes a single cab even leaner.
Just went we thought modern safety gear and consumer demand for huge cargo capacities would preclude the possibility of lightweight trucks coming back, it looks like Ford has made good on their promise to put their half-ton golden-goose on a diet while boosting capacities.
Aluminum-Bodied 2015 Ford F-150 Pickup Truck: Buyers Intrigued, Report Says
By 
Stephen Edelstein
July 20, 2014 9:00 AM
The aluminum-bodied 2015 Ford F-150 full-size pickup truck seems like a big gamble for the company.
The redesigned version of Ford's best-selling model promises to be more fuel-efficient, but many analysts have asked about aluminum's cost, durability, and ease of repair.
Yet a new study claims that buyers are, if nothing else, intrigued.
The study from research firm UBS found that buyers don't care what material their trucks are made of if performance is comparable–but became more interested in aluminum the more they learned about it, according to The Detroit News.
2015 Ford F-150
Researchers found that 36 percent of buyers surveyed didn't care what material their truck was made of, as long as it offered the same capability. About 19 percent preferred steel, 17 percent preferred a mix of steel and aluminum, 3 percent preferred aluminum, and 25 percent said they needed more information.
But the results changed significantly once participants received more information on the2015 F-150′s features.
Forty-three percent of participants said the use of aluminum makes it more likely to buy a truck, while 52 percent of pickup owners who intend to buy a new vehicle in the next six months said they're extremely likely to consider the 2015 F-150.
Riding on a traditional steel frame, the F-150′s aluminum body is expected to cut up to 700 pounds, which should lead to significant fuel-economy gains. Final specifications and fuel-economy ratings haven't been released, though.
Neither has pricing, although aluminum costs more than steel. UBS estimates this will add about $600 to the cost of each truck.
2015 Ford F-150
Nonetheless, the research firm believes the new F-150 will be quite profitable, claiming pickup buyers are willing to pay an average premium of $3,138 per truck.
That leaves plenty of room for the extra cost of aluminum, although whether buyers will be spooked by potentially higher repair costs remains to be seen. Once the new trucks leave showrooms, body shops will have to retrain and re-equip to work on them.
After hybrid success, Toyota gambles on fuel cell
 Rocket science long dismissed as too impractical and expensive for everyday cars is getting a push into the mainstream by Toyota, the world's top-selling automaker.
Buoyed by its success with electric-gasoline hybrid vehicles, Toyota is betting that drivers will embrace hydrogen fuel cells, an even cleaner technology that runs on the energy created by an electrochemical reaction when oxygen in the air combines with hydrogen stored as fuel.
Unlike internal combustion engines which power most vehicles on roads today, a pure hydrogen fuel cell emits no exhaust, only some heat and a trickle of pure water. Fuel cells also boast greater efficiency than the internal combustion process, which expends about two-thirds of the energy in gasoline as heat.
Toyota's fuel cell car will go on sale before April next year. Despite advantages that are seemingly compelling, the technology has struggled to move beyond its prototypes after several decades of research and development by industry and backing from governments.
For the auto industry in particular, there have been significant hurdles to commercialization including the prohibitive expense of such vehicles. On top of that, fueling stations are almost nonexistent. Doubters also quibble about the green credentials of fuel cells because hydrogen is produced from fossil fuels.
But Satoshi Ogiso, the engineer leading the Toyota project, is confident there's a market that will grow in significance over time.
Part of Ogiso's optimism stems from his background. He worked for 20 years on Toyota's Prius hybrid.
The Prius, which has an electric motor in addition to a regular gasoline engine, was met with extreme skepticism at the start. But it went on to win over the public as a stylish way to limit the environmental damage of motoring. Worldwide sales of Toyota's hybrids have topped 6 million vehicles since their debut in 1997.
"The environment has become an ever more pressing problem than in 1997," Ogiso said in an interview at the automaker's Tokyo office.
"Hydrogen marks an even bigger step than a hybrid. It is our proposal for a totally new kind of car. If you want to experience this new world, if you want to go green, this is it."
Toyota, which began working on fuel cells in 1992 but won't disclose how much it has invested, is not the first automaker to produce such a vehicle. Forklifts powered by fuel cells are becoming more common in factories and fuel cell buses have been trialed in some cities. General Motors Co. has also been working on the technology and Honda Motor Co. already sells the FCX Clarity fuel cell sedan in limited numbers and is planning a new fuel cell car, with a more powerful fuel cell stack, next year.
But Toyota's decision as the world's top-selling automaker to start commercial production of a fuel cell car is an important boost to the technology's prospects for wider adoption. Its release will also win the automaker plaudits for corporate responsibility.
"It works to symbolically enhance the automaker's ecological image," said Yoshihiro Okumura, auto analyst at Chiba-gin Asset Management.
Toyota's still-to-be-officially-named vehicle goes on sale in Japan sometime before April 2015, and within a half year after that in the U.S. and Europe.
The four-seater sedan, while sporting an aggressive grille and fluid body curves, looks pretty much like a regular car. Those who have test driven fuel cell vehicles say they have a powerful torque, with quick acceleration, akin to the thrill of driving a sports car. Yet they are quiet like electric cars, purring on the roads with no engine roar.
View gallery
In this July 14, 2014 photo, a Toyota fuel cell hybrid vehicle is refueled from a mobile hydrogen st …
Ogiso, like many other experts, believes that reliance on gasoline is not sustainable in the long-run particularly with rapid growth in vehicle ownership in developing nations, which could translate into hundreds of millions of additional cars on the roads globally.
Working on the Prius and the fuel cell, he said, was a similar process: Painstakingly tackling the challenge of packaging all the special parts needed for a new type of car.
Like the initial years of the Prius, subsidies and tax breaks are expected to substantially lower the fuel cell price tag in Japan.
Ogiso said at the beginning it cost more than 100 million ($1 million) to build just a test car.
The planned commercial model will sell for about 7 million yen ($70,000). Initially, Toyota had said the car might cost as much as 10 million yen ($100,000). Overseas prices have not yet been announced.
Factoring in subsidies and tax breaks, buyers might be able to get the fuel cell for about 5 million yen ($50,000), said Okumura, the Chiba-gin analyst.
That is still more than double the Prius, which with no frills sells for a little above 2 million yen ($20,000). It no longer gets green subsidies but still is eligible for a 100,000 yen ($1,000) tax break in Japan. Plug-in versions, which sell for nearly 3 million yen ($30,000), get bigger discounts, totaling as much as 420,000 yen ($4,200).
View gallery
In this July 10, 2014 photo, Toyota Motor Corporation Managing Officer Satoshi Ogiso looks at the im …
Toyota has not given sales projections but says interest in the fuel cell has been strong.
Apart from cost, the other big drawback is lack of hydrogen fueling stations. Only about 30 of them exist throughout Japan so far, although the government is leading a push to get more built in coming months.
Lack of charging stations is also a weakness for electric cars but there are fewer obstacles to establishing and supplying that infrastructure because electricity networks are already in place.
That is one of the reasons why automakers such as Nissan Motor Co. and Tesla Motors are pushing electric vehicles as the most practical way to be a green driver.
"We are a little bit skeptical," Nissan CEO Carlos Ghosn said of fuel cells. "Who's going to build the infrastructure?"
Selling 500 or 1,000 fuel cell vehicles a year might be easy, but getting sales to mass levels, such as 500,000 vehicles or more a year, would be difficult, he said.
Toyota, however, counters that electric cars tend to have limited cruise ranges, relegating them to a niche. Hydrogen fueling takes only three minutes versus several hours to charge an electric vehicle.
The planned fuel cell runs about 700 kilometers (430 miles) on a single hydrogen fueling.
Toru Hatano, auto analyst at IHS Automotive in Tokyo overseeing powertrains, forecasts that only several thousand fuel cell cars will sell per year globally.
"There really isn't anything good that happens for the consumer by getting a fuel cell," he said, compared with a hybrid's savings on gas consumption.
Beyond that, Hatano said hydrogen is now mostly produced from fossil fuels.
"You are using energy to create hydrogen, and then using more energy to pressurize it for storage, and so overall you aren't saving on energy at all."
But scientists are working on cleaner ways to make hydrogen, and in theory hydrogen is cheap, plentiful and possibly the next-generation fuel for motorists.
 Cars.com names the "Most American Vehicle" . . . the Ford F 150 from it's Plant / Assembly Line in Louisville Kentucky Ky and Beyond! The revival of the American auto industry is long under way. Since exiting the recession the big three in Detroit have witnessed incredible success as consumers' appetite for new vehicles has been practically insatiable. Point your finger at whatever you like — the growing U.S. economy, historically favorable lending rates, or sleek new car styles and interior gadgets and luxuries — as they're all correct answers as to why U.S. auto sales reached 15.6 million in 2013.
But,underlying the surge in U.S. auto sales is a trend that uncovered in a report this week in which it highlighted the top 10 American-made vehicles.
A noticeable shift in the U.S. auto industry - In its report, which focused on automakers whose vehicles were comprised of at least 75% domestic parts and were built in the U.S., Cars.com notes that just 10 vehicles, total, qualified this year. By comparison, this is down from the 30 vehicles that qualified for ranking in 2011. More and more we're seeing automakers turn to vendors outside the United States' borders for cheaper parts in order to cut costs and keep vehicle prices from soaring through the roof.
Of course, not every manufacturer has turned to foreign markets for inexpensive goods. As the American-Made Index demonstrates, there are at least 10 vehicles still left that are built with a minimum of 75% made-in-the-USA parts! One, however continues to stand out among the crowd, taking the top honor as the most "American" vehicle in back-to-back years, and in five of the nine years that has compiled its data.
Do you have a guess to venture as to which vehicle this might be?
Did you say the Ford (NYSE: F  ) Mustang or Chevy Corvette? If so you ventured a formidable guess and even managed to pick out one of the top 10 vehicles in the Corvette.
However, if you said the Ford F-150 then you've hit the bull's-eye.
Keep these biases in mind Before we dive into what makes the F-150 the most "American" vehicle, we should first tackle two of the primary biases behind the report.
On one hand, its data does help provide insight into which automakers are using U.S.-based parts, which, in turn, could provide clues as to what models consumers are more likely to form an emotional attachment to. In theory, by playing up their patriotic ties the automakers behind the 10 vehicles in the report could improve the marketability of their cars.
Also, we have to take into account that Cars.com's report doesn't take emotional attachment, brand history, model history, or feelings of brand patriotism into question when compiling its results. It's merely focusing on where the parts come from, where it's manufactured, and how many vehicles sold in the U.S. Period! To that end, there are variables which aren't fully in play here based on Cars.com's study.
On the other hand, the third criterion in the American-Made Index (beyond just being manufactured with 75% domestic-made parts and being assembled in the U.S.) focused on total sales. The Ford F-150 has been a staple among the best-selling vehicles for decades, so it's pretty much a lock to either take the top spot of second place each year based solely on that accord.
Why the F-150 is America's truck Yet, even with the biases inherent in this report it does indeed shed light on America's best-selling vehicle, the Ford F-150.
There are a number of reasons Ford's F-150 continues to sit atop the best-sellers list year in and year out.
Secondly, and tying this in with another survey that was released by Polk just a week ago,Ford ranks the highest of all auto manufacturers when it comes to brand loyalty. Per the Polk study, over a 10-year period 64% of consumers who purchased a Ford were likely to purchase another Ford or Ford-brand vehicle as their next vehicle. By comparison, overall brand loyalty as an average dipped to 51%, representing a somewhat overwhelming number of options now present on the market. What this signifies is that Ford is clearly hitting the mark with consumers when it comes to design, value, new technologies, and fuel-efficiency.
Third, Ford is innovative and the F-150 has been a regular stepping stone to showcase its new innovations. For example, the all-new 2015 F-150 was introduced earlier this year with an aluminum frame which replaces its traditional steel frame. The switch removes about 700 pounds from the final product allowing for better fuel efficiency — but, that's just the beginning. Shedding 700 pound allows customers the ability to readd options that previously would have been a drag on fuel-efficiency, such as beefing up the payload or tow capacity.
Fourth, the aluminum frame also allows Ford to introduce a number of engine options that require less fuel to power the truck, including a 2.7-liter and 3.5-liter EcoBoost engine and a 5.0-liter V8. These options make its previous 6.2-liter V8 look like a gas-guzzler and give consumers the confidence that they're buying a fuel-efficient and cutting edge vehicle that's not going to be obsolete anytime soon.
Finally, there's a rich and storied history behind the brand and the F-Series. According to Ford, its F-Series had held the top spot as America's best-selling truck for a ridiculous 37 years and has been America's top-selling vehicle for the past 32 years. Consistently remaining in the spotlight as America's top-selling vehicle implies to consumers that it's a dependable, well-made vehicle — ergo the motto "Built Ford Tough."
Combined, these factors would appear to indicate that F-150 sales are unlikely to slow anytime soon. As long as Ford remains innovative and continues to procure the majority of its F-150 parts from within the U.S., there's a good chance it'll experience a healthy boost in its bottom line from the patriotic connection that many consumers feel toward the brand.
2015 Ford F 150 the New and soon to be Used:  tested, review, information and brochure for Louisville, KY
The Ford F-150 has been the best-selling truck in the United States for the past 37 years, and the best-selling vehicle outright for the past 32. That's quite a legacy, and thus, it's no surprise that Ford worked super-duper-extra hard on creating the all-new, aluminum-bodied 2015 F-150 that debuted at the Detroit Auto Show earlier this year.
But that's only a small part of the story. Of course, the new F-150 has to be able to withstand whatever a pickup buyer might throw at it – and truck buyers arguably demand the most from their vehicles. So in an effort to convey just what the new F-150 had to go through before being given the final go-ahead, Ford has released a series of videos, showing how its new halo truck was indeed torture tested.
During an event at the company's headquarters in Dearborn, MI this week, we were able to see all of the ways that Ford endurance tests, not just the new F-150, but all of its vehicles. From examining things like light exposure to interior materials and paint finishes, to making sure that corrosion absolutely does not happen when steel components come in contact with aluminum panels in the new truck. The goal: ensure that the new F-150 is nothing short of "Built Ford Tough."
These tests involved things like shaking and twisting the Used Ford F150 truck in seven different ways (at the same time) for a simulated 225,000 miles, driving the pickup over seriously rough roads, giving it corrosion baths with acid sprays, towing uphill and downhill in 120-degree weather, thermally shocking the engine, and much, much more. Have a look at all 10 tests in the videos below, and scroll down a little further for a press release that explains what's going on in each scenario.
2015 Ford F150 Super Duty Louisville Kentucky KY, 2015 Ford F150 Truck Louisville Kentucky KY,
2015 Ford F150 Used Truck Louisville Kentucky KY, 2015 Used Ford F150 Truck Louisville Kentucky Ky,
Chevrolet Silverado 1500 Review Chevrolet Chevy Silverado 1500 Review for Louisville KY, Clarksville, Seymour, Jeffersonville and Salem Indiana IN
Finalist: 2014 Best Full Size Truck for the Money
Pros & Cons
Quiet, refined powertrain choices
Comfortable ride quality
Useful tailgate step and grab handle
Large pillars interfere with outward visibility
Notable for 2014
The 2014 Chevrolet Silverado 1500 ranks 1 out of 10 Full Size Pickup Trucks. This ranking is based on our analysis of published reviews and test drives of the Chevrolet Silverado 1500, as well as reliability and safety data.
Reviewers praise the 2014 Chevrolet Silverado 1500 for its comfortable ride, well-designed interior and range of refined and powerful engine choices, which they say make it a strong contender in the full-size pickup truck segment.
The Chevrolet Silverado 1500 comes standard with a V6 engine that reviewers say provides ample power for towing light trailers and day-to-day driving. For those with greater towing and hauling demands, most recommend stepping up to one of the optional V8s, which improve the Silverado's acceleration and make it better-suited to hauling and towing heavier loads. A six-speed automatic transmission is standard, and while reviewers say it has no inherent flaws, most wish that Chevrolet gave this redesigned truck an eight-speed transmission, which they think would improve acceleration and fuel economy. The Silverado achieves up to an EPA-estimated 18/24 mpg city/highway, which is good for the class. Test drivers report that the Silverado has one of the most comfortable rides in the segment, and that it delivers refined handling. They think that its steering is precise and well-weighted and its brakes are strong.
Reviewers say that the Silverado's interior is highly functional, with an abundance of storage cubbies and multiple USB ports for charging electronics. They think the cabin is constructed with visually-pleasing materials that are hard in the base trim, but note that upper trims feature higher quality materials and more soft-touch surfaces. Testers say the Silverado's front seats are comfortable and supportive and its back seats offer plenty of space. Features like the integrated corner step in the rear bumper and rail-mounted grab handle are useful for climbing into the bed, and available lights mounted under the bed rails make it easier to see cargo in the dark. Reviewers note that Chevy's MyLink infotainment system is easy to use, with straightforward menus and redundant switchgear for climate and audio adjustments. The base trim comes standard with a four-speaker stereo and dual USB ports. Major options include MyLink with Bluetooth and an 8-inch touch screen, a backup camera, a Bose stereo system, navigation, dual-zone automatic climate control, lane departure warning and forward collision warning.
"It's neat that GM is watching the market when it comes to new transmissions and light-duty diesel offerings, but it'd be great if the company actually stepped forward and once again led the entire segment in terms of innovation. That said, the 2014 Silverado is a solid foundation to build on as time and technology march on. Here's hoping GM does just that — but before another seven years fly by." – Automobile Magazine
"In a changing large-truck market, the Silverado has evolved like a rock; it's a geological commodity meticulously polished by time. In focusing on the fundamentals, Chevrolet passed on the latest trends but delivered a pragmatic truck that gets the core attributes right." – Car and Driver
"A wide range of body styles, an overhauled interior and a lineup of powerful and fuel-efficient engines make the 2014 Chevrolet Silverado a solid pick in the full-size pickup class." – Edmunds
"This Silverado catches up, powered by three new engines, new technology, and an interior that could go inside a Cadillac Escalade. It doesn't matter which English a Silverado owner speaks: It's a great truck in any language." –Motor Trend
"The new Silverado will certainly help convince longtime fans to hang around, but it may not be enough to keep wandering eyes from strolling toward a Ram 1500. Now we just have to wait and see what Ford has in store for the upcoming F-150." – Autoblog
Other Trucks to Consider
With a unique rear suspension design and an optional air suspension, reviewers say the Ram 1500 delivers the best ride quality in the segment. Additionally, reviewers think the 1500′s eight-speed automatic transmission is a model of smoothness and refinement. The Ram 1500 comes with the segment's only diesel engine option, which reviewers report is powerful and refined.
Reviewers say the Ford F-150′s range of cab configurations and trim levels give it a wide appeal to many truck shoppers. Additionally, they like the F-150's optional turbocharged V6, which they think delivers plenty of power and helps the F-150 earn good fuel economy estimates.
Compare the Silverado 1500, Ram 1500 and F-150 »
Details: 2014 Chevrolet Silverado 1500
The 2014 Chevrolet Silverado comes in three cab configurations: Regular Cab, which seats three, and Double and Crew Cabs, which seat up to six. A six-speed automatic transmission and rear-wheel drive are standard and four-wheel drive is optional. There are three engine choices: a 4.3-liter V6, a 5.3-liter V8 and a 6.2-liter V8. The Silverado comes in four basic trims: WT, LT, LTZ and Crew Cab-only High Country. A Z71 off-road package is offered with the LT and LTZ trims. The Silverado 1500 is fully redesigned for 2014.
Chevrolet Chevy Silverado 1500 Review for Louisville KY, Clarksville, Seymour, Jeffersonville and Salem Indiana IN
Chevrolet's 2014 Chevy Silverado 1500 for Louisville Kentucky KY, Corydon, Salem, Clarksville and Seymour Indiana IN
For the full-size-truck faithful, Chevy's entry V-8 is a 5.3-liter unitmaking 355 horsepower and 383 lb-ft of torque. Its performance is unimpeachable, yet a stronger 6.2-liter V-8 will join the lineup later this year, likely with well over 400 horsepower and 400 lb-ft. All three engines pair with a six-speed automatic transmission that times shifts well and executes them gracefully. And whether V-6 or V-8, all of the engines are capable of a seamless transition to V-4 operation during low-load cruising.
Audi Service auto repair center, Honda auto repair, Service & Repairs Louisville KY, BMW Service & Repairs Louisville ky , VW service, Vw body repairs, Vw auto body repairs, Volks Wagen Repairs, Toyota Service & Repairs Louisville Ky, auto car crash repairs,  auto repair center louisville kentucky ky,  BMW Service & Repairs Louisville Kentucky  ky
The engines may be new, but it's the subtle refinements to the chassis that make the strongest impression. The Silverado possesses uncanny refinement for a vehicle that's capable of hauling about a ton of dirt or towing up to 11,500 pounds of construction equipment. Body-on-frame trucks lack the three-dimensional rigidity of unibody cars and crossovers and the Silverado makes strides to quench the shudders that often plague pickups. Lift the hood and you'll see braced corners in the engine compartment.
The cab uses more high-strength steel and is mounted to the frame with new shear body mounts that limit fore and aft movement. As a result, what were quaking reverberations are now quivering jitters. On Texas's lumpy but unbroken pavement, the Silverado delivered a compliant ride with no head toss to speak of. Chevy's truck is also as quiet as a Lexus SUV thanks to acoustic-laminated glass, triple-sealed doors, and lined front wheel wells.
Hard-Working Luxury
As with any full-size truck, Silverado variants span the gamut from vinyl-floored work trucks to luxury-SUV alternatives. On top of ventilated leather seats and a heated steering wheel, buyers can add safety technologies like forward collision warning, lane departure monitoring, and rear cross-traffic alert that warn the driver with audible alarms and a vibrating seat. Chevrolet has also launched a new High Country model to challenge Ford's King Ranch and Ram's Laramie Longhorn. It features a saddle-brown leather interior, unique 20-inch wheels, its own grille, and high-end equipment. As for that aforementioned Texas Edition: It's a set of badges paired with optional equipment that's available on other trims.
We're more partial to the functional add-ons like the integrated trailer-brake controller, factory spray-in bed liner, and the back-up camera that make towing and hauling that much easier. New options include a damped tailgate, upper tie-down hooks, and LED lighting under the bed rails that illuminates your cargo even if you're using a tonneau cover.
Priced to Move
The 2014 Chevrolet Silverado doesn't have any glaring flaws. Its engines are strong, its chassis is stout, and its cabin is whisper quiet. But we have some doubts that it will be enough to convince folks to pass over Ford's well-marketed EcoBoost engine or the Ram 1500's comfortable coil-spring suspension. Chevrolet might have some doubts itself. On top of unchanged base prices from last year, Chevrolet will offer 2014 Silverado buyers free scheduled maintenance for two years or 24,000 miles. In true Texas spirit, we have to call that as we see it: That's a sales incentive on a brand-new truck.
Chevrolet's 2014 Chevy Silverado 1500 for Louisville Kentucky KY, Corydon, Salem, Clarksville and Seymour Indiana IN
Audi Service auto repair center, Honda auto repair, Service & Repairs Louisville KY, BMW Service & Repairs Louisville ky , VW service, Vw body repairs, Vw auto body repairs, Volks Wagen Repairs, Toyota Service & Repairs Louisville Ky, auto car crash repairs,  auto repair center louisville kentucky ky,  BMW Service & Repairs Louisville Kentucky  ky  
Full 2014 Chevrolet Silverado 1500 Review What's New for 2014
Redesigned for 2014, the Chevrolet Silverado benefits from weight reduction and a lineup of new, more fuel-efficient engines including a now-competitive V6.
Introduction
Most people buy a full-size pickup truck with the idea that they can drive it every day and use it for heavy lifting and hauling when the need arises. That latter requirement necessitates some muscle. Traditionally, you'd pass on the pickup's base V6 engine and spring for a substantially stronger but thirstier V8. But lately, automakers have been beefing up their trucks' V6 engines. Now Chevy has joined the party. As such, one of the best things the redesigned 2014 Chevrolet Silverado has going for it is something the outgoing version lacked: a competitive V6 engine.
Of course, the 2014 Chevrolet Silverado 1500 still offers V8 power as well, and they're burly 5.3-liter and 6.2-liter mills that now benefit from direct fuel injection and cylinder deactivation for better power and efficiency. But for those who'd like the big Silverado's generous passenger and cargo space and whose hauling and towing requirements aren't as severe, the new 4.3-liter V6 should fit the bill. It makes 285 horsepower and 305 pound-feet of torque, and can tow up to 7,200 pounds when properly equipped. Fuel economy ratings are impressive as well, with an estimated 18 mpg city and 24 mpg highway.
In addition to the more potent V6 engine, the latest Chevy Silverado benefits from a diet as well. The new regular cab model with the V6 and a 6-foot, 6-inch pickup bed, for example, weighs 250 fewer pounds than its predecessor. Other enhancements include revised suspension tuning for a smoother ride, forward-hinged rear doors on extended cab models (they were awkward, reverse-opening half doors previously) and newly available safety features such as a forward collision alert system, a lane departure warning system and trailer sway control.
Meanwhile, the Silverado's exterior design doesn't stray far from tradition. A massive new grille, revised bumpers and more sculpted styling down the side give it a more modern, almost aerodynamic look, but it retains the square-jawed, all-business look of previous Chevy Silverados. Those who regularly haul a lot of people and cargo will be pleased to know that the Silverado 1500 crew cab now offers a 6.5-foot cargo box in addition to the previous 5.75-foot box. Inside, Chevrolet has upgraded the Silverado's upholstery, dash and door-panel materials and now offers an 8-inch touchscreen display with the brand's MyLink infotainment interface and smartphone integration.
All told, the 2014 Chevrolet Silverado 1500 is fully competitive with its longtime and similarly well-rounded rivals, the Ford F-150 and Ram 1500 as well as the Toyota Tundra. This is especially true now that Chevy offers a V6 engine that promises ample performance along with good fuel economy. As such, your choice of a full-size pickup may come down to feature availability or even styling preference.
Body Styles, Trim Levels, and Options
The 2014 Chevrolet Silverado 1500 is a full-size pickup offered in a variety of cab/cargo-bed configurations in both two- and four-wheel drive. Body styles include regular cab, extended ("Double") cab and crew cab. Regular cabs can be had with either a 6.5-foot standard bed or an 8-foot bed. Extended cabs come with the 6.5-foot standard bed, while crew cabs can be had with either a 5.75-foot short bed or the 6.5-foot standard bed.
Regular cabs are limited to the base Work Truck and midlevel LT trims. The extended and crew cabs come in LT, LTZ, High Country and off-road-oriented Z71 trims.
The Work trim (or WT) comprises 1WT and 2WT subsets. The 1WT comes with 17-inch steel wheels, air-conditioning, cruise control, power windows and door locks, a tilt steering wheel, vinyl seating, rubber floor covering, a 40/20/40-split front bench seat and a four-speaker AM/FM sound system with USB and auxiliary inputs. The 2WT adds stainless-steel finish wheels, chrome bumpers and grille, deep-tint glass, power/heated mirrors, keyless entry, Bluetooth phone and audio connectivity, OnStar telematics and an upgraded MyLink audio system with a 4-inch color display, satellite radio, HD radio, Pandora radio, a CD player and voice control functionality.
Stepping up to the LT adds a chrome grille insert, an "E-Z" lift/lower tailgate, alloy wheels, cloth upholstery (with adjustable lumbar support for the driver), carpeting, a leather-wrapped steering wheel with audio controls, and six speakers for the audio system.
The LTZ piles on chrome trim, 18-inch alloy wheels, remote starting, power folding mirrors, a power sliding rear window with defroster, a tilt-and-telescoping steering wheel, an auto-dimming rearview mirror, a rearview camera, a 110-volt power outlet, dual-zone automatic climate control, leather upholstery, heated eight-way power driver and passenger front seats, driver-seat memory settings and an 8-inch touchscreen display for the MyLink interface.
In addition to the LTZ features, the High Country includes a unique grille, 20-inch wheels, front and rear parking sensors, cargo box tie-downs, a power sliding rear window, a Bose audio system, 10-way power front seats and ventilated front seats.
The Z71 trim, which is added atop the LT or LTZ, features off-road-oriented hardware such as special shock absorbers, a heavy-duty air cleaner, hill descent control, underbody shields, recovery hooks and a few unique exterior and interior styling tweaks.
Many of the features on the upper trim levels are offered on the lower ones as options while other available features (depending on the trim level and configuration) include towing packages, various axle ratios, a power sunroof, side steps, parking sensors, a navigation system and a rear-seat entertainment system with a Blu-Ray player. Notably, the Max Trailering package features an integrated trailer-brake controller, heavier-duty suspension calibration and a higher-capacity radiator.
Another key option group is the Driver Alert package that features lane departure warning, forward collision alert, safety alert seat and front and rear parking sensors. There are also the All Star Edition, Texas Edition and Custom Sport Edition, whose highlights (depending on the package) include 20-inch wheels, one of the available towing groups, remote starting, a power driver seat, a rearview camera and, of course, unique badging.
Powertrains and Performance
Standard on all but the LTZ trims is a 4.3-liter V6 with 285 hp and 305 lb-ft of torque. As with all other Silverado engines, it comes matched to a six-speed automatic transmission and either rear-wheel or four-wheel drive. EPA fuel economy estimates stand at 20 mpg combined (18 city/24 highway) for two-wheel drive. With 4WD, they drop to 19/17/22. Maximum towing capacity, when properly equipped and depending on body style, can range up to a generous 7,600 pounds.
The 5.3-liter V8, which is standard on the LTZ trims and optional on other Silverados, makes 355 hp and 383 lb-ft of torque. Properly equipped, trucks with this engine can tow up to 11,500 pounds. With rear-wheel drive, the EPA says Silverados with the 5.3-liter V8 will achieve 19 mpg combined (16 city/23 highway). With 4WD they rate 18 combined. In Edmunds testing, a Silverado 1500 LT Z71 Crew Cab 2WD with the 5.3 sprinted from zero to 60 in just 6.8 seconds.
Optional on the LTZ and High Country trims is a 6.2-liter V8 that makes 420 hp and 460 lb-ft. Its fuel mileage estimates are 17 mpg combined (14 city/20 highway) while its maximum towing capacity stands at 12,000 pounds when properly equipped.
Safety
Standard safety features include antilock disc brakes, traction and stability control, front and rear-seat side airbags, and side curtain airbags. Also standard is OnStar, which includes services such as automatic crash notification, roadside assistance, remote door unlocking and stolen vehicle assistance.
Options include a rearview camera, front and rear park assist and a suite of driver aids that include lane departure warning and forward collision alert.
In government crash tests, the 2014 Silverado earned a top five-star rating, with five stars awarded for both total frontal-impact safety and total side-impact safety. During Edmunds' braking test, a Silverado Crew Cab 2WD came to a stop from 60 mph in 128 feet, a good performance for this type of vehicle.
Interior Design and Special Features
With this redesign, all-new cab structures bring improved structural stiffness and crashworthiness to the 2014 model. Chevy also improved the cabin quality on lower trims, where materials and build quality are both notably better. There are also more bins and cubbies than before and LTZ trims have up to five USB ports to keep all your devices charged and happy. The MyLink system features an 8-inch touchscreen, straightforward menus and effective voice command interface, although sometimes the system can be slow to respond to inputs.
With a choice of bench or buckets (depending on trim level) up front, as well as available heating, ventilation and adjustable lumbar support, the Silverado's thickly padded seats promise plenty of long-trip comfort. Although the cab's basic dimensions are unchanged from last year, there is a smidge more rear legroom than before, and front occupants have more fore/aft seat adjustment range.
Gone are the awkward reverse-opening rear doors of the previous extended cab; the newly minted double cab has traditional forward-hinged doors. The new cabin also rides on improved body mounts for reduced noise and vibration, while clambering into the bed is made easier by clever steps and handholds built into each rear corner.
Driving Impressions
The 2014 Chevrolet Silverado's new V6 provides ample thrust and is light-years ahead of the old V6 not only in terms of power and performance but refinement as well. Another indication of this engine's all-around legitimacy is that it is available in all trim levels rather than relegated only to work truck variants, as was the case with the old V6.
As you'd expect, the 5.3-liter V8 delivers solid thrust with good manners, though there's still a bit of vibration during hard acceleration. More seamless than ever, however, is the fuel-saving cylinder deactivation system, which swaps between V8 and V4 modes with complete transparency.
The six-speed automatic provides smooth and timely gearchanges in normal driving. But despite the pull of the Silverado's huskier new engines, we've noticed that there's still too big a gap between the transmission's gear ratios when towing. There are rumors of an upcoming eight-speed transmission — it would be a welcome addition. That said, we've towed a trailer with an 8,600-pound load with a Silverado equipped with the 5.3-liter V8 and the Max Trailering package and there was plenty of reserve grunt.
Overall ride and handling dynamics are noticeably improved over the old truck. The 2014 Chevy Silverado 1500 feels robust structurally, yet most versions are compliant and comfortable over broken pavement, though the stiffer ride on trucks with the Max Trailering package can grow tiresome. The Silverado is also very quiet, with road and wind noise both minimal even at freeway speeds.
The Chevy isn't exactly agile around turns and there's plenty of body lean if you push it harder, as you'd likely expect. But in normal driving it feels confident enough and the steering is well-weighted. Off-road, the Silverado shudders less when bouncing around on rocky trails, exhibiting better composure than ever before.
Used Chevy Silverado Louisville Kentucky ky, Used Chevy Silverado Clarksville IN, Used Chevy Silverado Seymour I, Used Chevy Silverado Greenville IN,  2500HD Silverado,  2014 Chevy Silverado Brochure , 2014 Chevy Silverado Dealers in Kentucky & Indiana, 2014 Silverado, 2014 Silverado Louisville Kentucky,  2014 Silverado Review & Information, 2015 Chevy Silverado Brochure,  2014 Chevy Silverado Dealers Louisville KY & Clarksville IN, 2014 Silverado Clarksville IN,  2014 Silverado Reviews & Ratings
10 Cars, Trucks, SUVs Coming Your Way in 2015 to a Dealer near Louisville Kentucky, KY – Get your Brochure and Test Drive Scheduled now! APRIL 19, 2014
The Automakers of the world are teasing us with their 2015 model year vehicles, many of which should be available to the public by the end of December. It's always fun to see how new models take shape, and so far, 2015 is setting up to be a good year for buyers in just about every category.
Truck enthusiasts have Ford's new, aluminum Ford F-150 and General Motors' Canyon and Colorado to look forward to, while the more performance-minded can look forward to the new Subaru WRX, or BMW M3 and M4. Those looking for a spot of leather and creature comforts, seek no further than Cadillac's new ATS Coupe or Escalade, while the more practical and frugal can wait on Honda's new Fit or Chrysler's new 200 sedan.
Here are ten new cars hitting American showrooms this year (or next), out of the several scheduled for release. It appears that it'll be a solid year for luxury vehicles and crossovers, as well as fuel-efficient models that continue to push the envelope for lesser consumption.
1. Ford F-150
Ford's F-150 is easily one of the most anticipated new vehicles for the 2015 model year, not just because it's America's perennial best-selling vehicle, but because Ford has flushed out considerable amounts of the F-150′s steel body and replaced it with high-strength aluminum alloy, making it lighter, better handling, more fuel efficient, and stretching each horsepower further. Its new module design also ensures that the F-150 will be easier to repair and take far less time — thus saving significant amounts of money over similar repairs being made to the previous generations – Used Ford F-150 in Louisville KY.
2. Cadillac Escalade
It's been a few years since Cadillac's Escalade has gotten any real attention (the same could be said about the rest of GM's large SUV lineup), but 2015 will change all of that. Aside from the drastically different look, the Escalade promises be better performing, more comfortable, more fuel efficient, and just as decadent as it has been in the past — perhaps even more so. Its interior is likely one of the most refined that we've seen from Cadillac in a number of years, with options for genuine wood trim, premium leather, and so on.
3. Chrysler 200
Chrysler's 200 sedan — and its Sebring sibling — needed some desperate attention if the car was going to compete with, well, anyone. Fortunately, under its new Fiat ownership, the 200 has been given the breath of life it so badly needed, and the 200 once again has a fighting chance at regaining some needed market share in the small sedan segment. The new 200 boasts a far sleeker profile and form and looks far more in-place among the newer generations of sedans. The convertible won't be seeing a 2015 model year, however, so you'll have to spring for the conventional hardtop.
4. GMC Canyon
American manufacturers all but abandoned the small truck segment, but with the new GMC canyon and Chevy Colorado, GM is looking to even the score with Toyota's reigning Tacoma pickup. The trucks will have two gasoline options — an inline four and a V6 — with a diesel option slated for 2016. The segment is aimed at some aggressive growth in the nearer future, with Honda teasing a new Ridgeline, VW toying with bringing its Amarok Stateside, and a new Nissan Frontier before long.
5. Honda Fit
Honda's little Fit hatchback is among the favorites in its class and has established itself as one of the leading subcompacts on the market. However, it has been starting to age as models are wont to do, and therefore Honda is promising a brand new model for 2015, which may become of the most tech-laden competitors in the subcompact segment. It will offer more space than its predecessor, a new face, better aerodynamics, and a slew of other improvements.
6. Subaru WRX
Subaru's new WRX has taken a lot of abuse from Subaru enthusiasts for not living up to the standards set by the company's striking concept model, but underneath the skin, the 2015 WRX is promising to be Subaru's best driver's car yet. For the STI (pictured), the hallmark boxer engine churns out 305 horsepower to all four wheels, routed through an increasingly rare manual six-speed. Larger front and rear anti-roll bars provide 67 percent faster steering response, according to the company, and 16 percent less body roll thanks to tweaked suspension. Unfortunately, there won't be a hatchback version this time around — perhaps the greatest complaint – for additional hatchbacks look at the Chevy Spark and Chevy Sonic.
7. Porsche Macan
Porsche's (POAHF.PK) Cayenne helped bring the brand from a niche sports car maker to a mainstream luxury company, and Porsche is aiming to build on that with its Macan crossover. At a shade under $50,000, it'll be the most affordable Porsche available, but those looking for some extra oomph can check out the Macan Turbo S, which costs over $72,000 but generates a hearty 400 or so horsepower.  Quite a difference from the Ford Escape.
8. 
Lincoln MKC
Lincoln's revival isn't quite off the ground yet, and the MKC is coming along later this year to help give the brand some lift. The MKZ has been carrying most of Lincoln's weight, but the growth prospects in the luxury crossover segment should help Lincoln pull its brand back from the brink. The MKC, which will feature a 2.0 liter EcoBoost engine at base and have the option of Ford's new Edge with the  2.3 liter EcoBoost that's rated for 285 horsepower, is likely going to do very well in China when the brand launches there this Summer.
9. Audi Q3
Though it's seen service in Europe for some time now, the Audi (VLKAY.PK) Q3 will be all-new to the U.S. when it debuts for 2015. The Q3 is intended to fill the gap for those looking for a small car like the A3 but need a bit more cabin room, and will go head-to-head with the forthcoming Mercedes GLA Class. Chances are the Q3 will be available with the same powertrains as the A3, so look for a 1.8 liter turbo, a 2.0 liter turbo, and possibly Audi/VW's terrific 2.0 liter TDI diesel engine.
10. Cadillac ATS Coupe
Cadillac's ATS has proven to be quite popular, and the brand is hoping to recreate the magic with two fewer doors. While many attempt to make coupes more flashy than the sedans on which they're based, GM has taken a simple, crisp approach to the ATS Coupe, letting straight, angular lines and clean, vent- and duct-free sheet metal do the talking. The ATS Coupe will be available with a 2.0 liter four or a 3.6 liter V6, but it's the ATS-V Coupe that we're really interested in.  For more information on used & preowned car, truck, suv dealer in Louisville Kentucky, KY.
2015 Ford F150 Truck Louisville Kentucky KY,  2015 Chevy Colorado Truck Louisville Kentucky KY,  Used & PreOwned Cars Trucks SUV's Louisville Kentucky KY,  2015 Honda Louisville Kentucky KY,  2015 Toyota Louisville Kentucky KY, Used Honda Louisville Kentucky KY,  Used Toyota Louisville Kentucky KY, Used Ford Truck Louisville Kentucky KY,  Used Chevy Truck Louisville Kentucky KY